PEMF Therapy
PEMF/LFMS Treatment

India based PEMFIndia offers whole body mattress for PEMF therapy, Transcranial Magnetic Stimulation helmet(LFMS) for Neurological Problems & Depression, PEMF applicator for local joints pain and arthritis, with one year warranty, treatment with latest PEMF/LFMS based machines & Devices.
People can get pulse electromagnetic field treatment for knee pain, cervical pain, back pain, arthritis & rheumatic problem at its treatment centres in Delhi and Chandigarh. Our devices are deployed in various cities such as Delhi, Chandigarh, Mohali, Mumbai, Chennai, Bangalore, Hyderabad, Ahmedabad, Pune, Telangana and Kolkata.
Pulsed Electromagnetic Field Therapy brings hope to millions of patients faced with surgery or life of a cripple. Surgery should be preserved for patients crippling diseases who do not respond to more conservative treatments. We should think of surgery only when all other safer and less traumatic treatments fail.
Walk Again With Comfort
OSTEOARTHRITIS
Cure Without Surgery
Reversing & Preventing osteoarthritis
New hitech revolutionary PEMF technology
Avoid Knee / Joint Replacement
PEMF Machine
PEMF in Pain Management Therapy:
In Pain Management Therapy the implementation of of PEMF is rapidly increasing.PEMF is applied in current orthopedic clinical practice to treat very painful fractures, spinal fusions and avascular necrosis and so on. Battery-operated PEMF devices with very weak field strengths are used in Pain Management Therapies for the treatment of musculoskeletal disorders. But many of the times, the results of the PEMF therapy is not instant and requires daily treatment for several months, specially in case of fractures.
PEMF Therapy and the related devices:
The devices used for Pulsed electromagnetic field (PEMF) are electrical instruments to generate a magnetic fields that can influence the diagnosis of a human body. Each magnetic pulse generated by PEMF Therapy stimulates a tiny electrical signal in the cells of the body. This results in stimulation of the repair process. PEMF Therapy is a non- invasive method and many FDA approved devices of PEMF Therapy are available with us to stimulate the process of healing.
RTMS Therapy:
RTMS (Repetitive Transcranial Magnetic Stimulation) Therapy is a non-interfering method of applying electromagnetic fields to the brain. It is the application through a medical device of 0.9 Hertz frequency stimulation by an electromagnetic field to the brain. This Therapy requires more than one session with the patient. Single sessions of RTMS Therapy placed over the temporal cortex can cure depression by activating neurons near the surface of the brain. Repeated sessions of RTMS ( (Repetitive Transcranial Magnetic Stimulation) may successfully treat tinnitus, but the results may vary.
Magnetic Therapy for Pain management:
Common ailments that many people experience at many stages of their lives are osteoarthritis, menstrual pain, migraine headaches, chronic back pain and etc. Taking medication for these conditions may provide temporary relief but could eventually lead to other problems. But Magnetic Therapy provides a relief to these pain permanently. This Therapy doesn't have any side effects the way other generally prescribed drugs have , neither the patient has to undergo any complicated procedures during the magnetic therapy treatment. The benefits of using the therapy includes improved circulation, reduced levels of stress and instantaneous relief from fatigue and muscle strain.
How Magnetic Therapy devices Reduce Pain:
The devises designed for Pulsed Electromagnetic Field (PEMF) therapy treatment are used as a therapeutic agent for the treatment of chronic pain.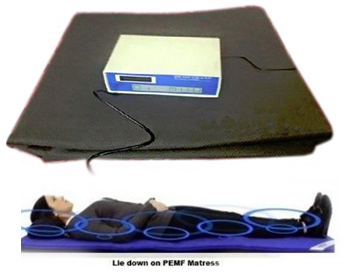 Size (6 feet * 2 feet)
Full Body PEMF Mattress :
Superior strength magnets are incorporated into the structure of the mattress and are selected for their ability to provide an effective and safe environment. As the body comes in contact with the magnetic field, relaxation occurs and stress points are minimized. When the pain subsides, a new vitality is restored, stress is reduced and the body becomes energized.
The Magnets are invisible to the user but are positioned so that they provide the maximum amount of therapeutic value.
Magnetic Therapy mattresses provide an affordable and easy solution to reduce pain. The portable mattresses can be used in an office chair, in the car or in a favorite recliner.
This affordable magnetic therapy mattress makes it worthwhile to purchase as it works as a cushion for areas throughout the home for all family members to enjoy.
Magnetic cushions are durable, stain resistant, sustain normal wear and maintain their magnetic properties for many years.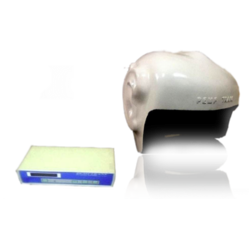 Low Field Transcranial Magnetic Stimulation Helmet :
This device helps in the healing of brain related disorders like Depression, Insomnia and other brain cell degeneration disorders.
We suggest giving low frequency and low intensity (100-150 µT) at the coil level.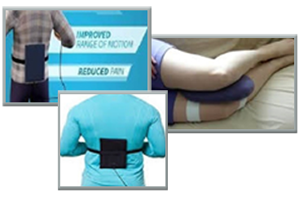 Size (9 inch * 9 inch)
Local Applicator in Pain Management Therapy :
We have recently launched the local applicator for local pain relief and provide mobility.
It is easy use with strap on pad which can be placed between knees and tied in the back to give relief from back pain, spondylitis, knee pains and other joint symptoms of Osteoarthritis and Osteoporosis.